About Us
Through time and knowledge "Pillows" have become an important part of our daily life for sleep, leisure and love.

Dating back to 7,000 BC Pillows symbolized status as more pillows you owned the more affluence he or she held. All ancient cultures around the world produced pillows to help solve the reoccurring neck, back and shoulder pain problem but also to keep hair, mouth, nose and ears free of dust and other particles while sleeping. The Romans of ancient Europe mastered the creation of softer pillows and where the first to introduce Duck Feather to increase quality and fluffiness. The small Down compact feathers they first produced are the same in modern times.

Today we like to watch TV with them, we use them to enjoy and early dinner or late breakfast, we sometimes let the kids jump on them, sometimes with our pets or some of our friends – the ones we like of course! but mostly we lay on them to simply sleep and re-charge for the next day.

We strive to provide you with the best 100% Italian Pillows. We only manufacture in Italy always using mostly natural and new conceptual Italian raw materials & innovative construction technologies ensuring the best quality for you, your family and sometimes your pets, large and small.

Try one and then some.



Seaweed is a revitalizing multitalented natural life form, Sea Cell ™ is the power of sea weed in a fiber, it provides beneficial qualities by protecting and promoting health to your skin.

Our unique SeaCell ™ fiber combines cellulose with seaweed bringing nature back to you in an ecological, environmentally friendly and immediate way. You will feel it immediately.

Seaweed is the "fuel of the seas" Just one pound of dried seaweed contains the active agents of more than 100,000 gallons of sea water. With its abundance of nutrients, seaweed has a healing effect. It contains more vitamins than any other natural product and is rich in amino acids, iodine and other skin soothing elements.

Sea Weed strengthens the immune system and reduces blood sugar, regulates circulation, promotes digestion and revitalizes skin, hair and nails.
The special combination of extraordinary softness, gentle care and protection of your skin, SeaCell ™ brings you the best nature has to offer. Even very sensitive skin will not show adverse reaction.

Your skin needs nutrients to stay healthy and beautiful. Mineral substances and trace elements are important to invigorate your metabolism. Amino acids have a smoothing effect while vitamins support the natural supportive role of the skin. All these nutrients are present in our selected SeaCell ® fabrics to the highest degree. Your skin benefits from their valuable effects: Due to the natural moisture of the skin, the vital substance in the Seaweed are set free when fibers are worn.

Their beneficial effect can therefore unfold over time even after many washing cycles. With its natural properties it has long being employed in ancient cultures for well-being. It's anti-inflammatory properties make our Sea Weed pillows unique and organically tested for the best night sleep.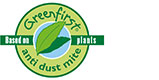 The world renewed Natural Anti-Dust Mite, Anti-Bed Bug and Anti-Mosquito repellent.

Made with Lemon, Lavender and Eucalyptus vegetable oils, It operates by contact and is immediately effective against all stages of bed-bug growth. No chemicals or artificial treatments are used to make this pillow, it is biodegradable and hypoallergenic, a sustainable eco-product. Washresistant.